It's important to take the dreadful orange glowing maintenance light on your dashboard seriously. Oil changes are essential to your vehicle's longevity—ignoring routine maintenance visits can cause short and long-term damage to your engine and associated parts. The good news is that oil changes are not as demanding as they used to be. You can go further between oil changes thanks to modern oil and engine technology advancements. Some dealerships may also make oil change visits more accessible by providing transportation, Wi-Fi and other handy accommodations during routine maintenance appointments.
Why Oil Changes Are Important
Regular oil changes are essential whether you want to enhance your future trade-in value or keep your vehicle for life. Clean engine oil promotes friction reduction, keeps the engine cleaner and helps to prevent rust and corrosion. It also enhances circulation, which allows the engine to perform as it should, leading to maximum fuel efficiency and fewer repairs. Skipping oil changes can cause oxidization, friction and other issues that shorten your vehicle's lifespan. What costs you upfront can help you save you money on repair costs in the long run.
What Happens During an Oil Change?
The technician will drain your vehicle's old oil during an oil change. They'll then update your oil filter and add new, clean oil to replace what they removed. When you use a Mopar® Service Center, you get more services than just an oil change, including a tire rotation, a battery and brake pad inspection and an exhaust system check. The maintenance team can check that your engine cooling system is working correctly, and that the engine air cleaner is functioning well without dust or grime. Together, these maintenance services can help prevent mechanical and performance problems before they begin.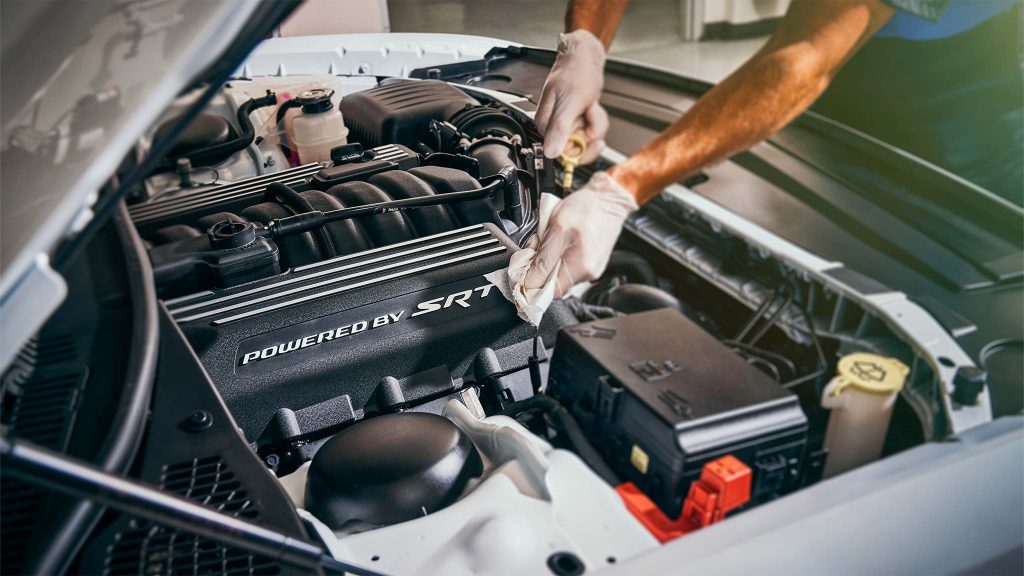 Recommended Intervals
Oil change intervals can vary depending on your vehicle type, vehicle age, your driving style and frequent driving locations, what oil type you're using and what engine you have. The average recommended time between oil changes is 5,000 miles. Your engine type plays a significant role in this variation. For example, a 3.6L-liter or 5.7-liter engine should never exceed 10,000 miles or 12 months without an oil change. The larger 6.4-liter engine should not surpass 6,000 miles or six months without an oil maintenance visit. Refer to your vehicle's service manual or ask your Mopar technician for recommended oil change intervals.
Different Oil Types
Engine oil types directly affect recommended oil change intervals, too. The most used oil types are conventional and synthetic. Conventional oil is more likely to break down, meaning it's shorter-lived than synthetic oil. It's best to stick with synthetic oil because it's cleaner, fuel-efficient and cold-start-friendly. Synthetic oil can also help your vehicle go further between oil changes.
Your Mopar technicians will know which engine oil grade you need depending on your vehicle and engine type. Are you planning to go DIY instead? Then be sure to check your service manual for specific oil change instructions.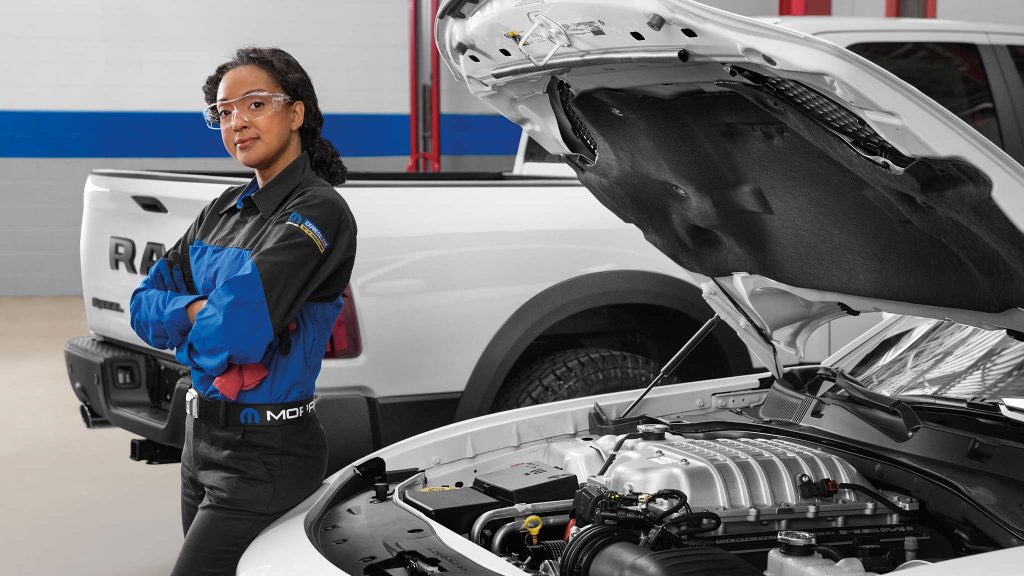 Where to Schedule Your Appointment
Mopar is the official customer service and parts brand for Chrysler, Dodge, Jeep®, Ram and FIAT, so it's best to visit an official Mopar Service Center for routine maintenance, oil changes and parts upgrades. Mopar technicians learn how to service these vehicles directly from the manufacturer and use OEM (Original Equipment Manufacturer) parts for upgrades and repairs. If a technician notices something wrong with your vehicle during your routine maintenance and oil change visit, they've got the official manufacturer-approved parts to fix it.

You can find Mopar services at Chrysler, Dodge, Jeep, Ram and FIAT dealerships. Schedule a service visit here by picking your preferred dealer and supplying your name, contact information, vehicle details, necessary services and appointment time.