Matt Hagan drove his Tony Stewart Racing (TSR) Dodge//SRT Direct Connection Hellcat Funny Car to the final win light in the 43-year history of the Dodge Power Brokers NHRA Mile-High Nationals at the famed Bandimere Speedway on Sunday, July 16.

Hagan, the No. 1 qualifier in the Dodge Power Brokers Mile-High Nationals for the third consecutive year at "Thunder Mountain," defeated Alexis DeJoria in the final round with a 4.135-second run at 304.25 miles per hour, to DeJoria's 4.217 effort. The victory was Hagan's fourth in the 2023 NHRA Camping World Drag Racing Series and his 47th career NHRA national event win.
"This was a magical weekend for me and very emotional," said Hagan, who's win fell on his late mother's birthday. "I was thinking about that throughout the weekend. But I also knew this is the last time I'd race at Bandimere Speedway and it was a Dodge-sponsored race. I don't think it will sink in for a few months. Wow, I took the final win light at the Dodge Power Brokers NHRA Mile-High Nationals. That's something they can never take away from me."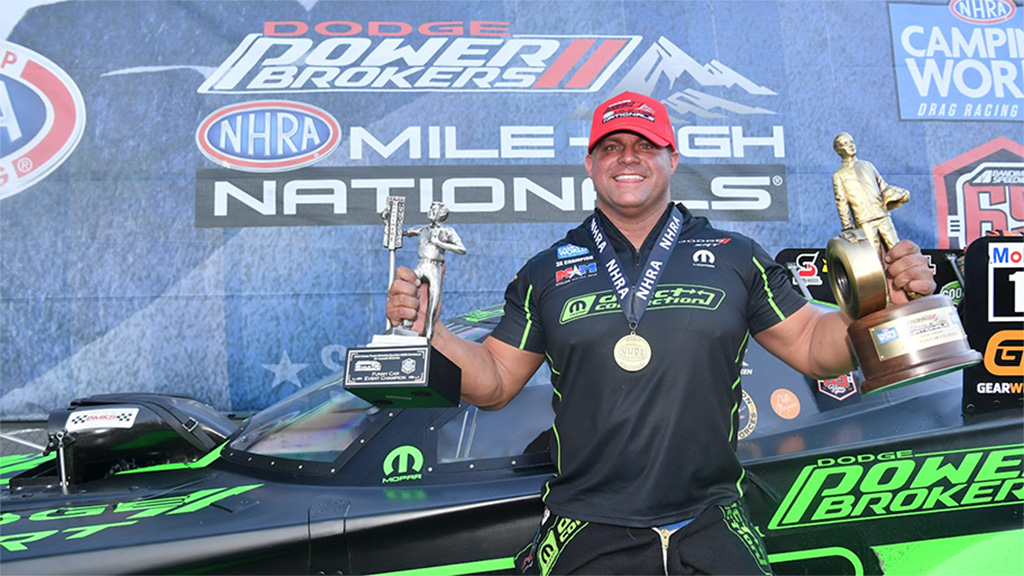 The Mile-High Nationals win extended Hagan's point lead in the NHRA Funny Car standings to 45 over reigning NHRA Funny Car World Champion Ron Capps heading to the Northwest Nationals in Kent, Wash.
Hagan also completed a weekend "Grand Slam" by taking the Mission Foods #2Fast2Tasty Challenge for the Funny Car Class on Saturday with a win over Bob Tasca.

Leah Pruett, Hagan's TSR teammate and defending Dodge Power Brokers NHRA Mile-High Nationals Top Fuel champion, suffered an extremely close loss in the first round of competition when she lost to Josh Hart although both posted identical 3.905-second passes.
Pruett recorded a 0.036 second starting light in the TSR Dodge//SRT Direct Connection dragster but lost by inches at the finish line. Despite the loss, Pruett remains in the third position in the current NHRA Top Fuel point standings.

"The conclusion to our final Dodge Power Brokers NHRA Mile-High Nationals at Bandimere Speedway was less than ideal with the first-round exit, but there is still a lot of value in it for us for us as a unit," said Pruett, who won her first NHRA "Wally" trophy at age eight at Bandimere Speedway in Junior Dragsters. "I would've loved more than anything to win again at Bandimere, with such an emotional connection."

Team owner Tony Stewart was excited for Hagan's win.
"For Matt to win the last race at Bandimere Speedway, it is so special," Stewart said. "The Funny Cars were the last pair to go down the track. It's an epic event, it's the Dodge Power Brokers NHRA Mile-High Nationals."

Keep up with Mopar® on:
Mopar brand: www.mopar.com/
Facebook: www.facebook.com/mopar
Instagram: www.instagram.com/officialmopar
Twitter: twitter.com/OfficialMOPAR
YouTube: www.youtube.com/c/mopar