When you go to any drag race event such as the NHRA or NMCA/NMRA, you'll see an army of people, tractors, used tires and fluids being applied to the race track throughout the event. This procedure is called track prep. It is a process that many race teams have come to count on (or, in some cases, hate) if it is not performed to the level they expected going into the hit (i.e., Run or Pass) by their car. In fact, a recent "no prep" movement, inspired by street racing, has begun to influence the sport. As most racers will attest, track prep is imperative to a smooth run. So, how is it administered for an event and what is this "no prep" drag racing all about?
Kurt Johnson is a long-time member of the drag racing community. Having started as an amateur drag racer, Johnson wanted to work in the sport full time. After getting an entry level job at Don Schumacher Racing (DSR), Johnson ascended to Director of Operations for DSR. From there, Kurt moved over to work at the NHRA in the Marketing Department while also helping with operations at NHRA National events. He then moved into the Director of Operations role at Lucas Oil Raceway and finally to Norwalk Raceway in Ohio.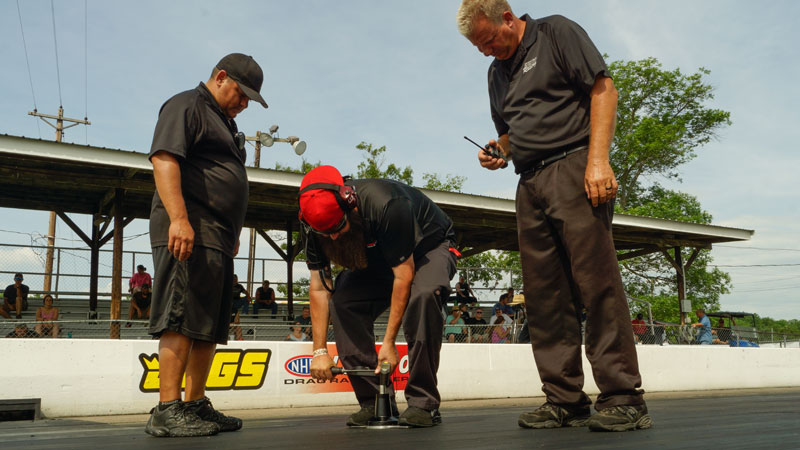 It was during his time at Lucas Oil and Norwalk Raceway that Johnson's job required him to learn to master the track prep for the major events they put on each year. As a facility, if the track does a good job while working with the sanctioning body (NHRA, NMCA/NMRA, etc.) to coordinate the track surface and the prep, the competitors will be able to put on a great show for the fans. An entertaining show with cars completing their elimination without wheel spin or tire shake brings the fans back next year. For people like Kurt Johnson and other track prep experts, that is the goal. Johnson himself has such an outstanding reputation that he is now a track prep "hired gun," independently contracted by tracks and series for the past three years.
"When we come into an event weekend, we actually start the weekend by employing 12″ tile scrappers, a 750,000 BTU torch and floor scrubbers to scrape and wash the track clean of all rubber possible," said Johnson. This allows those doing the prep work to apply track prep solution for the event. "The basics of the track prep begin with baseball rosin and traction compound. Next, we bring in the tractors to pull our rotating tire drag rigs to apply rubber to the track. Ideally, we want a 3/64 application of rubber. Once that is achieved, we will reapply our traction compound. Now, we bring out the tractors again with the static drag rigs attached to the tractor. These rigs have tires with the sidewalls cut out of them. The purpose of this is to compact the traction compound into the rubber."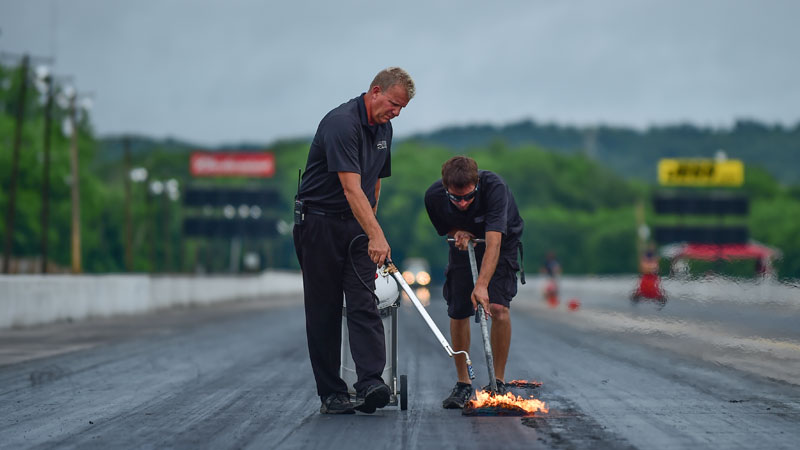 Where Rubber Meets Rubber
This is where the details of prep can make or break the event, especially at events like an NHRA National event. At National events, there are two types of tires racing throughout the weekend. First, there are the Big Tire classes. These include Top Fuel Dragster, Top Fuel Funny Car, Pro Mod and Pro Stock. These classes create high RPM very quickly. Therefore, they are looking to spin the tires throughout the hit. This means they would like the surface to have some porosity in it. However, all of the other classes running are utilizing Little Tires. For them, the ideal surface would have no porosity. They want the tire to stick as much as possible because they want their cars to hook up immediately and have tires drive down the hit with as much grip as possible.