Mopar® provides a handful of resources to help you get to know the full capabilities of your vehicle and how to keep it running strong. We call it an online vehicle resource center and it's available any time, day or night at Official Mopar Site | Owner's Manual. Just sign up or sign in to view your complete owner's manual, watch educational videos, learn from Uconnect Help, or set up maintenance schedules.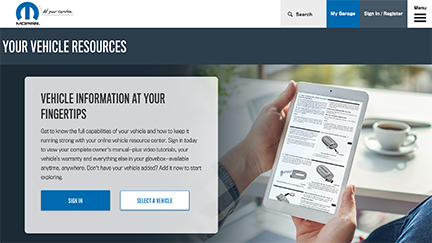 Of course, you can just go to your vehicle glove box and check out the printed owner's manual as well. Not sure where to start? Just take a quick look at your dashboard or your vehicle's controls or any of its features and simply look it up in the owner's manual. There's a good chance you may learn something new about your vehicle and how it works that will make owning it and driving it even more enjoyable.
Finally, your vehicle will let you know when it is time for maintenance. And Mopar trained service technicians are just a click or two away when you use the online service scheduler to make your appointment.