When you visit a Mopar® Service Center, you're choosing some of the most qualified specialists to take care of your vehicle—Mopar service technicians. As the official customer service and parts brand for Chrysler, Dodge, Jeep®, Ram and FIAT, no other service provider understands your vehicle's components better than Mopar.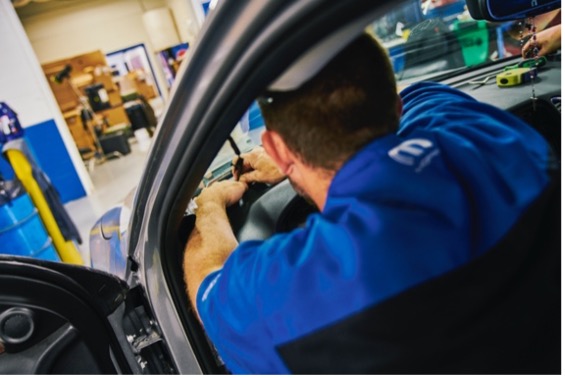 An Overview of Mopar Technician Training
The learning specialists and engineers who built your vehicle create factory training modules for Mopar service technicians through the Mopar Career Automotive Program (CAP). In this program, students spend hundreds of hours completing classroom lessons, attending web-based training and getting hands-on experience in order to become certified technicians specially qualified to work with FCA vehicles. An official Mopar technician works with Chrysler, Dodge, Jeep, Ram and FIAT vehicles long before their first day on the job.
Mopar Service Technician Certifications
Mechanical issues require different skill sets and experience levels—efficient work takes the whole crew. At Mopar, service technicians are certified at different levels:
Level 1 Certified: Mopar CAP Local
Level 2 Certified: Mopar CAP Traditional
Level 3 Certified: Full Curriculum
Level 1 technicians are "Semi-Skilled" and study electrical core skills that help them learn basic repairs and diagnostics. These entry-level skills are teachable to people with little to no experience.
Level 2 technicians are considered "Skilled" by Mopar and dive even further into FCA vehicle systems. These techs can use specialized test equipment and work on performance-related issues.
Level 3 technicians are "Highly-Skilled" and are experts in the field. These techs can find the answer when the problem is unusual or complex.

The ASE Certification
There are many different mechanics and service technician programs, so what makes Mopar CAP different? The answer is certified training and courses. In addition to being the official service provider for FCA vehicles, Mopar CAP is certified by the National Institute for Automotive Service Excellence (ASE). Mopar CAP tasks and lessons are ASE Certified and will prepare students for ASE certification—guaranteeing top-notch professional vehicle services.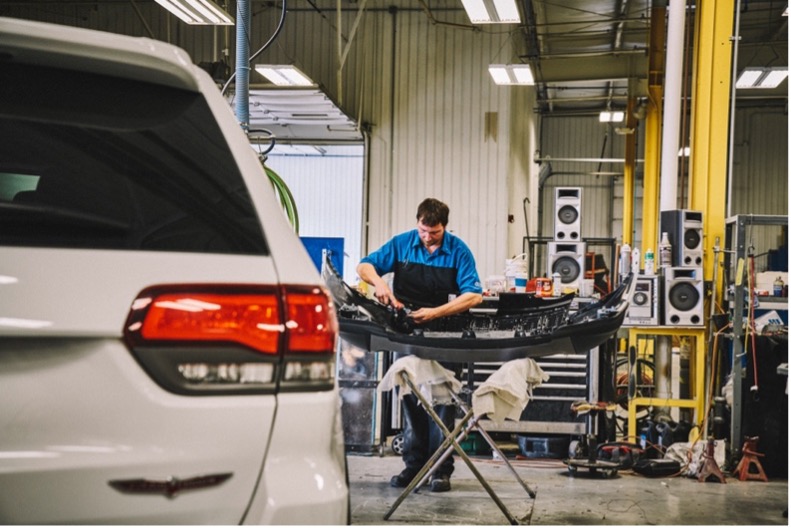 How CAP Students Funnel into Working at Dealerships
CAP students get hands-on experience from the start. All CAP students will work with a dealership co-op and eventually partner with a Master Tech or mentor.
When the program first starts, students learn basic skills like how to change engine oil and rotate tires. After 3 months, students begin battery replacement and learn how to handle recalls. 6 months in, a Mopar CAP student can work on brakes, shocks, perform alignments and system tune-ups.
The most hands-on experience occurs at 12 to 18 months when the CAP student is matched with a Master Technician or working mentor. Students can finish the program as early as 12 months but can earn an associate degree and reach Level 3 Technician with the full curriculum.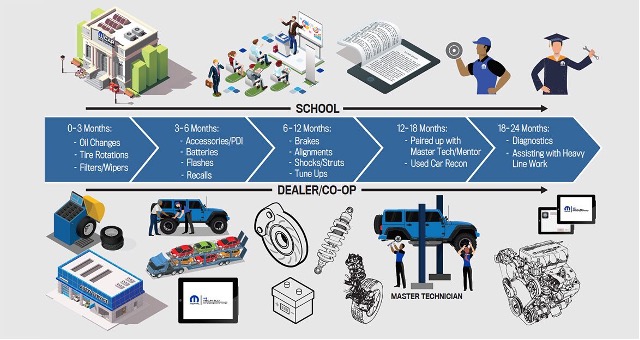 It's important to note that CAP can provide techs with different career opportunities beyond service technician positions. According to the 2019 NADA Workforce Study results1, here are potential careers that students can pursue upon CAP completion:
Express / Lube Technician
Express / Lube Manager
Service B-Technician
Service Advisor
Master A-Technician
Parts Manager
Service Manager
Fixed Ops Director
Most students gain so much experience that they can land a position with a dealership before completing the program. Students get to choose their preferred dealership offer and work their way up the ladder over time.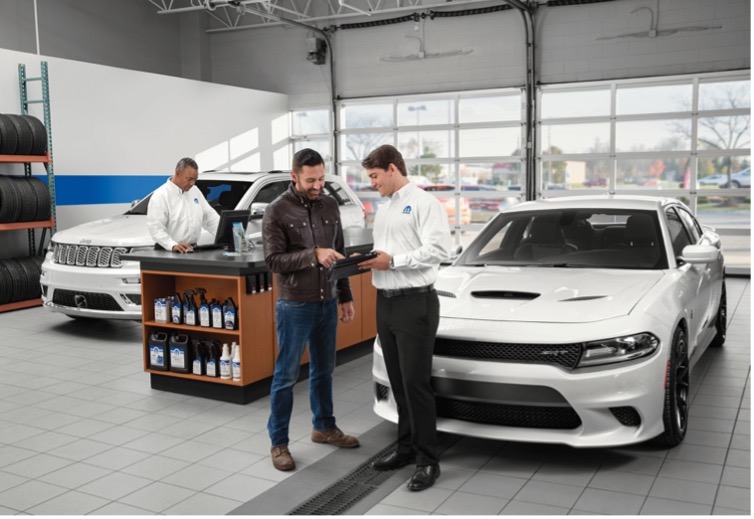 What is the Express Lane?
Sometimes you need a quick tire upgrade or a last-minute oil change. When you need reliable vehicle services on the go, the Mopar Express Lane provides access to fast and convenient services—no appointment necessary.
Don't worry; there's no catch to it. Express Lane uses Mopar-certified technician services and includes a complimentary multi-point inspection for the road. Express Lane has your back if your vehicle needs a tire rotation, a wiper blade replacement or other quick services.
Put Mopar Service to work for you by scheduling service for your vehicle now at Official Mopar Site | Online Scheduling Service.
Disclaimers
1 2019 NADA Workforce Study, FCA US LLC figures. Earning potential is $100K+.
©2023 FCA US LLC. All Rights Reserved. Chrysler, Dodge, Jeep, Ram, Wagoneer, Mopar and SRT are registered trademarks of FCA US LLC. ALFA ROMEO and FIAT are registered trademarks of FCA Group Marketing S.p.A., used with permission.